Full CMS – No Messing Around Here
CMS stands for content management system and is a way to create, edit, organize, publish and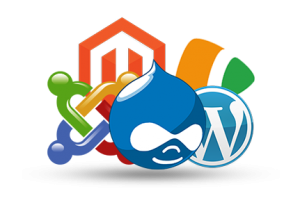 maintain a website using a central user interface. There are many different kinds of CMS's available; WordPress, Drupal, Joomla, ProcessWire, DotNetNuke, ocPortal and more. Each one has it's reason for being, their own pro's & cons and depending on what kind of website you need we choose the one that fist best.
We build all of our websites using a CMS because it makes it easier for the end user (you) to add, edit and publish content. This unleashes you from your web developer. It allows you to make minor changes without needing to know a bit of code or contacting your web designer. Besides that:
Reasons Why You Should Use a CMS
There are many different reason why you should be using a CMS, below we're going to cover just a few.
No Need To Know HTML
Most CMS's come with what is referred to as a WYSIWYG (What You See Is What You Get) editor, pronounced wiz-e-wig. It allows you to visually create content without having to use HTML. If you've ever used Microsoft word, you're already familiar with what a WYSIWYG editor is.
Add Content Quickly and Easily
Need to add a blog post? It's built right in. Need to add a video to your website? How about a way for people to download whitepapers or eBooks? That's right, with a CMS it's all right there.
Easily Accessible
Need to access your website on the go? There isn't any need for an FTP client or access to the server, just log in to the back end of your website and make changes anywhere there is an internet connection.
Consistent Updates
Worried about the technology used to create your website? With a CMS it's as easy as clicking a button (some do it automatically) to update it. This will ensure that your site stays secure and that you always have the latest and greatest.
Support for Multiple Users
Do you have multiple people that need log ins? How about multiple user types? With a CMS user levels are built right in. What that means is that while User A has full access User B can only access the blog posts he/she created.
Contact Us To Learn More