We Are PPC Specialists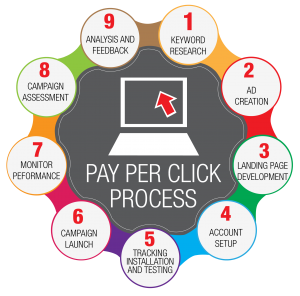 We're all about process. But, even before that, we're all about getting to know your business. We feel there are certain things that must be done before we spend one red cent on PPC (paid search). First and foremost, we dig into what key performance indicators (KPI) you measure YOUR success by. What good is traffic without conversions?
For instance, if you judge your success by a successful eCommerce purchase, then so do we. If success to you is a phone call, a newsletter registration, visiting a specific page or downloading an app then that is how we'll measure our success. You see, PPC isn't one size fits all. Sure, we run many different PPC campaigns and because of that we bring a tremendous amount of insight with us but the fact of the matter is, each business is different. Each location is different. So, if you spend $1,000 per month or a $1,000,000 we start in the same place, how do you measure success?
Quality Control
Whether it's Adwords, the Yahoo! Bing Network or just about any other place where ads are placed, quality matters. At 3GEdigital we focus heavily on quality score for a number of reasons but two stand out more than the others, it drives down CPC (cost per click) and drives up conversion.
Intelligence Testing
We work smart. We focus on best practices, put in the work, focus on strategy and pay attention to the data. There isn't any special sauce that one PPC agency has over the other. There isn't a silver bullet, but there is intelligence testing. What that means is that we make ongoing judgements based off of data. We don't cut corners and we always do it the right way. Not 99% of the time, but 100% of the time.
Contact Us To Learn More